True Fit™ Sizing
SIZE MATTERS - Without a consensus industry sock sizing standard, we did a lot of research to formulate our True Fit™ Sock Size System.
Our research determined we needed six unisex sock sizes XS, S, M, L, XL, XXL to best work with the shoe size numbers shown on the chart below.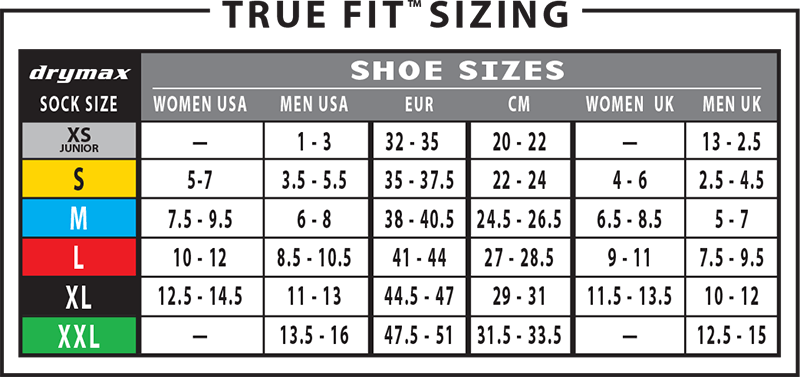 3D ADVANCED FIT - Once we had our True Fit shoe size numbers, we conducted a foot length/width study to be able to convert our numbers into physical 3D foot forms. These 3D forms are similar to shoe lasts and were probably the industry's first three-dimensional sock fitting forms. Our 3D foot forms more accurately represent the 3D human foot as opposed to the 2D flat boards that are used by our competition.
Our system uses two different size 3D forms for each of our six sock sizes. For each sock size, the smaller form represents the shortest/narrowest foot to be fit, while the larger form represents the longest/widest foot. For a sock to fit properly it must not be too loose on the smaller 3D form, nor too tight on the larger 3D form. If a sock fits the smaller and larger 3D forms properly, it also fits everything in between.
COLOR SIZE MARKS - Each drymax sock includes a color size mark for easy match-up after laundering.
To help sort our socks, our 3 thinnest sock levels have an outlined color size mark.

Our 2 thickest cushioned levels have a solid color size mark.