Sock Features - Hiking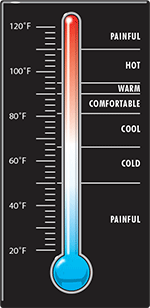 Hiking is one of the most fun outdoor activities, enjoyed by people of all ages. Hiking can be a challenge depending on the location or weather. Using the proper hiking gear can make a big difference. Using the wrong gear can ruin the fun and cause real problems. Wet socks are a hiker's worst enemy, especially in cold or freezing temperatures. Wet socks pull heat away from the skin 23 times faster than dry socks; this can reduce skin temperature so rapidly that wet feet feel painfully cold and wet skin makes the feet much more susceptible to frostbite and the body to hyperthermia. Staying dry is critical to remaining warm, comfortable and safe in wet or cold weather.
---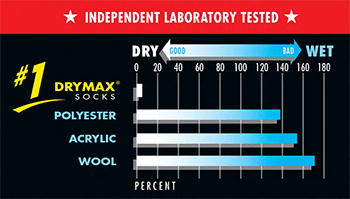 Independent lab tests confirm drymax socks stay up to 25 times drier than socks made with wicking fibers like Polyester, Acrylic, Nylon and Wool!
---
DRYMAX TECHNOLOGY IS BETTER THAN WOOL
Compare drymax fibers to wool and you will see drymax is better in every measurable category.
DRYMAX FIBERS HAVE THE BEST THERMAL CONDUCTIVITY RATING
drymax Hiking Socks keep the skin warmer because they draw less heat away from the skin than socks made with Polyester, Wool, Acrylic, Nylon, or Cotton.
---