Sock Fit & Technical Features
SIZE MATTERS - Without an industry sock sizing standard we were forced to do a lot of research to formulate our True Fit™ Sock Size System.
Our research determined we needed six unisex sock sizes XS, S, M, L, XL, XXL to work with the shoe size numbers shown on the chart below.
True Fit shoe sizes correspond to the 1.5 size difference between women's & men's shoe sizes. This is not always the case with other brands' sock sizing.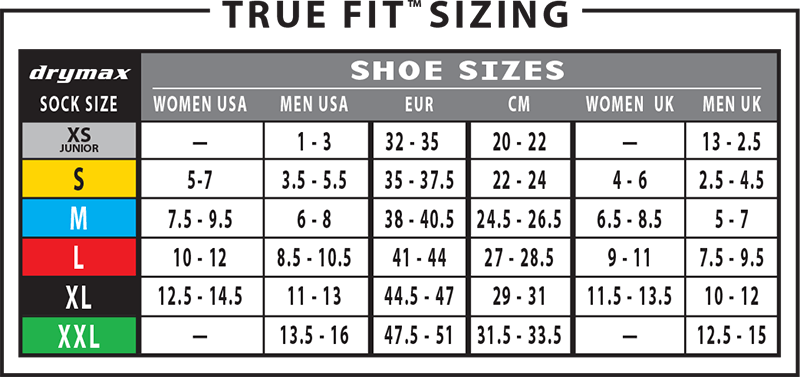 3D ADVANCED FIT - Once we had our True Fit shoe size numbers, we conducted a foot length/width study to be able to convert our numbers into physical 3D foot forms. These 3D forms are similar to shoe lasts and were probably the industry's first three-dimensional sock fitting forms. Our 3D foot forms more accurately represent the 3D human foot as opposed to the 2D flat boards that are still the hosiery industry standard.
Our system uses two different size 3D forms for each of our six sock sizes. For each sock size, the smaller form represents the shortest/narrowest foot to be fit, while the larger form represents the longest/widest foot. For a sock to fit properly it must not be too loose on the smaller 3D form, nor too tight on the larger 3D form. If a sock fits the smaller and larger 3D forms properly, it also fits everything in between.
COLOR SIZE MARKS - Each drymax sock includes a color size mark for easy match-up after laundering.

To help further sort our run socks, our 3 thinnest sock levels have an outlined color size mark.
Our 2 thicker cushion levels have a solid color size mark.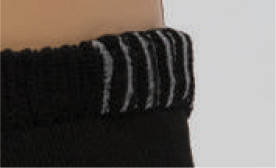 ANTI-SLIP WEDGE - When wearing low cut socks, the heel often slips down into the shoe which is annoying and can cause blisters and ruin a run/race. To help prevent sock slippage with our lower cut socks, we've added an anti-slip wedge pad at the upper back part of the sock's heel.
SOCK VERSION # - Knit into our socks is a version # (ex: v6). The version can be found inside the welt, except on no show or no show tab socks. As we advance our fiber technologies or sock designs, we update the version #.
ACTIVE ODOR CONTROL - The antimicrobial in the drymax fibers fights odor-causing bacteria, helping keep socks odor free. Not a topical treatment, the antimicrobial is molecularly infused into our drymax fibers. Being non-migratory and non-toxic, the antimicrobial provides long term ACTIVE ODOR CONTROL.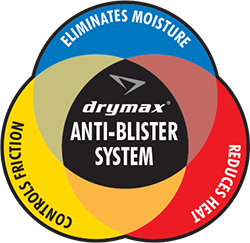 ANTI-BLISTER SYSTEM - Several features built into every drymax sock work together as an Anti-Blister System to actively prevent the formation of blisters. 1) Anatomical 3D fit with six sock sizes, 2) Seamless insides, 3) An instep-hugging arch band, and 4) Because drymax fiber technology socks stay dry, the skin stays dry too; therefore, blisters caused by sweat are mostly prevented.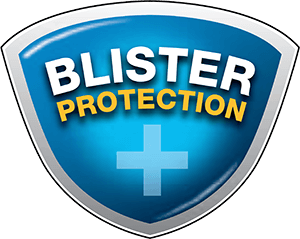 BLISTER PROTECTION + - To provide our highest level of blister protection, our most technical run socks use super low friction PTFE (Polytetrafluoroethylene) fibers in the high friction areas of the socks. PTFE is Super Hydrophobic like the drymax fiber. It does not absorb, nor wick sweat and sweat does not stick to PTFE's surface. We have determined the proper ratio of PTFE to use; too little is ineffective, too much, the foot slides excessively in the shoe. We use 100% PTFE, which cost about $70 per pound, as opposed to much cheaper surface coated fibers.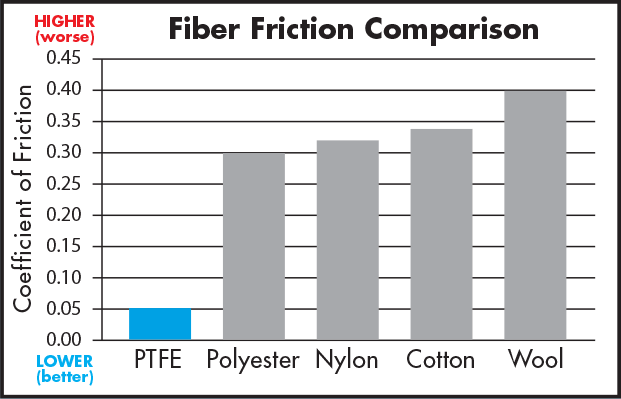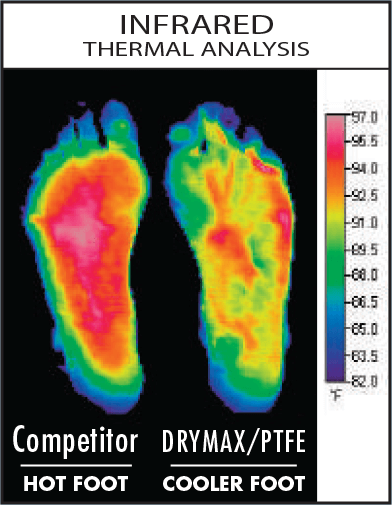 PTFE has the lowest Coefficient-of-Friction of any fiber, making it the best at keeping friction low between the skin and sock.
Low friction PTFE allows our running socks with the Blister Protection+ System to keep feet cooler and drier, reducing the chance of chafing, hot spots or blisters.
If you need skin lubricants on your feet, you're wearing the wrong socks!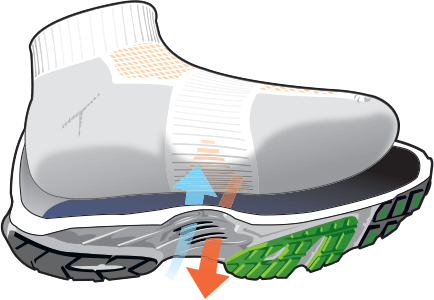 COOLER FEET - All drymax Running socks with the exception of the Cold Weather and Trail socks, possess top and/or bottom air vents; designed to work with the built-in vent systems in the latest generation of breathable running shoes. These vents release heat/sweat vapors to keep feet cooler, drier and more comfortable.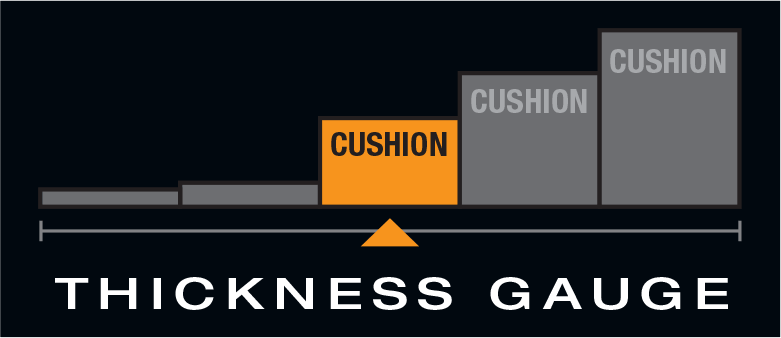 THICKNESS GAUGE - We use the gauge at left to show the relative difference in flat knit or cushion thickness of our socks.
Depending on their intended use, drymax run socks are level 1 or 2 flat knit (thin), or are level 3, 4 or 5 with terry loop cushioning. Our terry loop cushioning utilizes dense cushioning, not super thick cushioning, as it cushions & protects with minimal altering of the fit of the shoes.
DENSE PADDING - drymax level 3 cushion socks have approximately 43,200 terry loops per square inch. drymax socks are knit with dense terry loops to help keep them from quickly flattening out which better protects the feet.
STAY DRY & COMFORTABLE GUARANTEE - drymax socks will keep feet drier & more comfortable than any other sock. If your customers do not agree, they can return socks with the sales receipt to Drymax Technologies Inc. for a full refund.