Performance Wristbands
Basic
Inquire About Team Products
---
NEW SCULPTED DESIGN - BETTER BALL SECURITY
Sculpted design is thinner on the underside, helping football players better catch and hold onto the ball.
Wristbands are primarily worn to absorb sweat to keep hands dry or to wipe the face to prevent sweat from getting into the eyes.
---
WRISTBAND PROBLEM 1
Traditional sweatbands are thick and get in the way of holding the ball close/tight against the arm and while trying to make a catch,
the ball can more easily bounce off the wristband's thick underside.
OUR SOLUTION
Our wristband's thin underside allows the ball to be held closer to the arm for better ball awareness and "high & tight" ball security. The thin underside was designed to not interfere with catching the ball.
---
WRISTBAND PROBLEM 2
Other manufacturer's wristbands have brand logos that are often embroidered with rough fibers that can scrape the skin when wiping the face.
OUR SOLUTION
We don't place a logo on the wristband's top side, where it is used to wipe the face.
---
WRISTBAND PROBLEM 3
Coaches recommend wearing the same gear for practices as for games because this better prepares you for games. Wearing sweaty wristbands against the skin for several hours a day, six days a week creates a poor environment for the skin under the wristbands.
OUR SOLUTION
Our wristbands have a layer of drymax fibers against the skin which moves the sweat off the skin. Dryness helps increase a player's level of comfort and therefore their concentration!
---

The drymax fibers are enhanced with the patented Cupron® Copper Technology which lasts for the life of the product. The Cupron® Technology releases copper ions that work with the bodies' natural processes to improve skin appearance. When worn regularly against the skin, Cupron® Copper Technology provides documented performance in a wide range of applications; including anti-odor protection and helping to improve the appearance of the skin. Cupron® Copper Technology patent # 7,169,402
---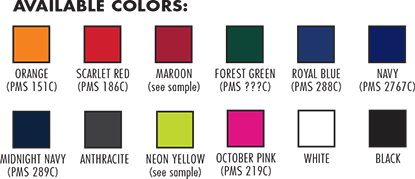 ---
Related Products