Football Cold Weather
Over Calf
Inquire About Team Products
---
COLD WEATHER – THE OTHER OPPONENT
In cold weather, moisture is the skin's worst enemy. Wet socks pull heat away from the skin 23 times faster than dry socks. Wet socks and cold feet adversely affect your players' concentration & performance and can also contribute to Hypothermia.
DRYMAX COLD WEATHER SOCKS KEEP FEET DRIER AND WARMER
Our Cold Weather socks employ a special Dual Layer Moisture Removal System to keep feet dry. The inner drymax layer mechanically lifts moisture off the skin moving it to the outer absorbent layer. Independent lab tests confirm drymax socks stay up to 25 times drier than socks made with wicking fibers like Polyester, Acrylic, Nylon or Wool. What are your team's socks made of?
Drymax fibers having the best thermal conductivity rating means that drymax Cold Weather socks keep feet warmer than other socks because they draw less heat away from the skin.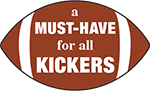 Our Cold Weather socks are also great for keeping the backup players, coaches and staff warm on the sidelines.
Staying dry is crucial to remaining warm & comfortable in cold weather and no sock has proven to keep feet drier than drymax socks.
---
Related Products