ChinSaver ®
Football/Lacrosse
Inquire About Team Products
---
GROSS • NASTY • DISGUSTING • SMELLY • FOUL
Bacteria - Fungus
Many football/lacrosse players choose to wear chin cups as opposed to the more basic chin straps because they provide better impact protection. Chin cups however, do have drawbacks. They get hot, sweaty, slippery, smelly and just like chin straps, they harbor infectious bacteria and fungus.
---
REMOVES SWEAT
ChinSavers are the only chin cup sleeve able to keep the skin dry. This is because the drymax fiber technology is super hydrophobic and part of our Dual Layer Sweat Removal System.
When worn and washed regularly, ChinSavers are designed to help reduce skin irritations, razor burn and acne caused by chin straps/cups.
ANTI-ODOR + SKIN ENHANCEMENT
The drymax fibers are enhanced with the patented Cupron® Copper Technology which lasts for the life of the product. The Cupron® Technology releases copper ions that work with the bodies' natural processes to improve skin appearance.
When worn regularly against the skin, Cupron® Copper Technology provides documented performance in a wide range of applications; including anti-odor protection and helping to improve the appearance of the skin.
A PRACTICE AND GAME PROVEN PRODUCT
During the Fall football season of 2010 we introduced and tested our ChinSaver product with High School, College and Professional Football with tremendous success. Since then ChinSavers have become the 'asked for product' at all levels of play.

In hot weather, players wearing ChinSavers are more comfortable, and in cold weather they are warmer because their skin is dry. Increased comfort leads to a higher level of concentration.
ChinSavers are available in regular and vented models. Vented ChinSavers work well with the built-in cooling vents on Riddell® and other foam/plastic chin cups. ChinSavers are simple to put on and take off, making them easy to be washed.
---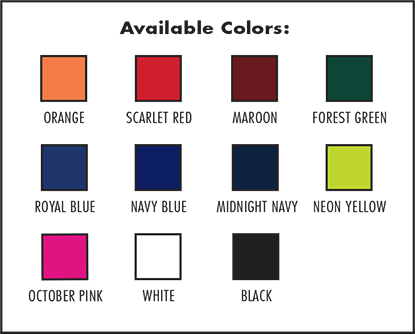 ---
Related Products